"I know I'm too late for this craze, but I just watched In Time With You. My, how I fall head over heels for Li Da Ren. And Bolin Chen! He seems dark and mysterious, but when he smiles, my knee goes weak! Hope you'll post some pics of him! -didi-"
-Anonymous
Dear, don't be sorry but instead be thankful that you discovered the drama however late it might have been.
At least you didn't miss out because if you did?
Then that's something that you should be sorry about.
Not for me or to the drama but to yourself because you would have never known the existence of such a remarkable series.
Anyways, everyone who follows my blog also know that i was converted into a great, big Bolin fantard after watching him in IN TIME WITH YOU so i can totally understand how you feel.
When he's broody and mysterious, you want to wrap him in your arms and comfort him and when he smiles? It lights up his whole face that it has the power to make my panties seem to magically disappear.
And there i guess lie his charm.
Here, have some Bolin, enjoy the pretty…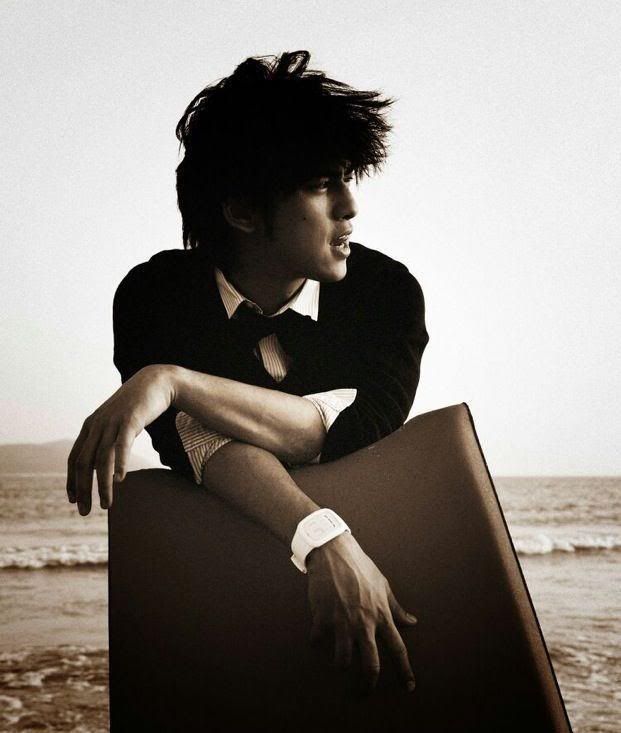 "Who is your all time favourite western, korean, taiwanese and japanese actor/actress?(please answer with 1 western, 1 korean, 1 taiwanese and 1 japanese)"
-Anonymous
Here's my list:
Actors
WESTERN
I find this category really hard to answer since i don't particularly have one as my biases vary (I am absolutely HOT for Channing Tatum and Robert Downey Jr just as an FYI as of the moment).
However, if we're talking about a favorite due to purely sentimental reasons, it will be TOM CRUISE as i loved him eversince i was a school girl in TOP GUN and i still can't get over how he's still able to give me the same kind of butterflies in the stomach from that time, when i watched him once again as drool worthy, sexy as hell, popular rocker Stacey Jaxx  just recently in ROCK OF AGES.
KOREAN
The man who made me believe that there is a whole world of hotness in the Asia Pacific that i have not yet explored at a time when i was so enamored of the Brad Pitts and the George Clooneys. 
He made my heart go pitter patter the moment i laid eyes on him on MY NAME IS KIM SAM SOON and he turned me into a raging k-drama addict not only with his good looks but also with his spazzworthy performances while in character that there are not one too many times late at night when i imagine myself as Sam Soon or Ra Im.
My Han Namja, the man that with just a glimpse of his face can send me squeeing, for the Korean category, on my list will be the one and only HYUN BIN.
TAIWANESE
A very recent find but i can say that he is all time because he toppled my ever favorite Taiwanese gege Joe Cheng off my number 1 spot when he played the ever so perfect, flawless guy you'd want to bring home to momma Li Da Ren in IN TIME WITH YOU.
There's just something about BOLIN CHEN that's so soulful.
There's something about the way he stares that seem to pierce way deep down into the recesses of your soul that it can only be described as "come hither".
He's dark and broody and mysterious but when he smiles, it lights up his whole face that it leaves me breathless.
It's that exercise in contrast that made me fall head over heels for him.
This man plays the lovesick, long suffering boy with an unrequited love to perfection and maybe for that reason, i fell for him hook, line and sinker.
JAPANESE
They can say whatever they want about his acting, they can label him all they want as a mediocre actor but there's a reason why YAMAPI is one of the Hottest commodities in the Japanese entertainment industry and i think it's because he holds such an elusive charm and strong mass appeal that one can't help but like him.
Sure, the pretty boy good looks does not deter from that in any way but to me, it is the earnestness in which he portrays his characters that converted me into such a big fangirl.
When he cries, he cries as if he means it. When he looks at his female lead, he makes you believe that he is sincerely in love with her at that moment.
Even his signature pursing of the lips seem to be always part of his character that even if i've seen him do it in Pro Dai and then in Buzzer Beat, he still gets me in the heart as if i've seen him bring that nuance to his character for the first time even if the truth is, i've seen him do that time and time again.
Actresses
WESTERN
Who doesn't love a girl that's so drop dead gorgeous but isn't afraid to poke fun at herself?
Whether she's playing a caricature of a cop in Ms. Congeniality or playing lead in a heavy hitting drama that delivers a message, SANDRA BULLOCK is sheer perfection.
However, to me, it is her real personality while off character that has really endeared her to me.
That awwww inspiring moment she gave me when i saw her high five audiences at the Oscars while all glammed up and decked out in a Monique Lhuillier gown or the grace that she has exuded under pressure when news of her ex husbands cheating made the rounds.
She is a a good mother to her adoptive son and i love how she has been able to retain her sense of humor despite the divorce hell that she has went through that makes her such a class act in my opinion as compared to other actresses around.
The Proposal is one of my most favorite rom-coms ever and it is thanks mostly to Sandra. 
I really can't wait to see her next project and to see what she has up her sleeves for her audiences the next time around.
KOREAN
Ugh… Where do i start with how much I LOVE HER?
No.
I mean it.
I LOVEEEEEEEE HER.
So much that sometimes i get confused if i want to be her or want to just get to know her.
Her drama choices might have been hit and miss after My Name is Kim Sam Soon but KIM SUN AH is an actress in the truest sense of the word because you can just see her passion and dedication to the characters that she's played.
To her, It doesn't matter if the storyline has gone down the crapper or if the ratings are not according to her expectations. Sunny is and will always be a true professional who would bring her A-game to her projects and it is evidenced by her Baeksang worthy performances from start to finish, no matter how mediocre the plot of her drama might have been.
She is not afraid to push the boundaries. 
To always take on new characters that would challenge her an actress and she will do everything that's necessary whether it be gaining 30 pounds or starving herself just to bring her characters to life for her audience.
And don't even get me started about how she creates chemistry with each and every one of the actors she's paired with.
She takes such a backseat to them and lets them shine in their characters and i guess i wouldn't be too presumptuous to say that thanks in part to Sunny, Cha Seung Won, Hyun Bin and Lee Dong Wook are the hot actors that they are today.
When someone who's not yet popular is paired with her, then it's guaranteed that after getting paired with her they become popular and if they are already popular, then she makes them even MORE popular by doing the same thing.
And i believe that's her magic.
That and the care and concern that she shows to her fans and co-workers that is genuine and real and that endears her to almost everyone she gets to meet and most of all, she's an inspiration to all womankind for growing old soooo gracefully while retaining all that sexiness and vampiness that can give all those other actresses a good run for their money even if they are all younger than her.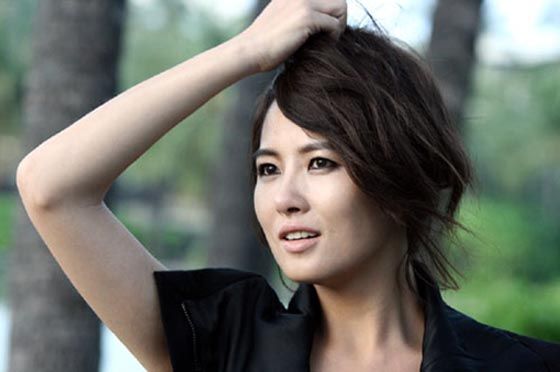 TAIWANESE
I have made such a long post already in my blog previously about how much i love ARIEL LIN so for the same purposes and reasons, i am reposting it here just to explain why i love her and how much i adore her:
The girl is literally an acting chameleon.
Just watch In Time With You and then watch her in It Started with a Kiss and you'd get to see how she literally imbibes her characters and breathe life into them.
Heck even throw in a little of Tokyo Juliet and Love of the Condor Heroes and you'd get to see how she is able to reinvent herself as another person depending on the story and the character. 
The reason why i love Ariel's acting and why i adore her as an actress is because of her ability to always show something new depending on her projects.
She's a filial daughter, a good sister and she's just so genuinely serious with her craft and with improving herself that you can't help but admire not just her acting ability but also her values as an actress.
Another thing that's inherent in Ariel is her ability to create crazy chemistry with anyone of her leading men.
People ship her with Mike then with Wu Zun then with Joe and Hu Ge and now with Bolin. 
And i can't say i blame them.
It's because she has this uncanny way of really making us believe that she is not just playing a role but rather living as the characters that we see in the story of any drama that she's acting on.
The more that Ariel gets older, the more her acting matures and the more beautiful she's becoming.
One thing is for sure.
I can't wait to see what this girl has up her sleeve and i am still praying up to now that she would retract her drama retirement because if she indeed does it?
I will be almost half giving up already on watching Taiwanese dramas because to me?
She is really literally only one of the handful of T-drama actresses that are really worth watching.
JAPANESE
I really don't know that much about SHINOHARA RYOKO outside of the characters that she plays outside her jdrama but whenever i see her onscreen, i like what i see.
She is the type of actress who seem to throw herself into every character that she plays.
I love how she can make me ship whatever OTP she's playing at the moment and to root for her and her leading man no matter whoever it is that she may be paired with.
I sincerely wanted to kill Lin Zhi Ling in Tsuki No Koibito mostly because i just want her and Kimutaku to end up together and i also love the fact that she's one of the rare Japanese actresses who has no qualms about being passionate with her onscreen partners if and when the situation calls for it.
I'm always excited to see Shinohara in a drama that even if i have no plans of watching it, as soon as i know that she's in it, then i'm in.
Her best work for me however would remain to be Anego as she made me live out my Jin fantasies vicariously through her and when Shota had the hots for her as Maemi in Moon Lovers?

Then that's it.
I was sold.
She will  be the cougar noona i want to be when i grow old.
"Hi, love your blog. Started watching "In Time With You" because you mention it alot here, and so far I am loving it. Keep updating this blog it brings a bit of happiness to my otherwise dull day <3"
-Anonymous
I talk about it all the time because it deserves to be talked about.
Just look at that image.
Look at it.
The love that's coming from Da Ren's eyes for You Qing is sooooo palpable that it feels like a punch to the gut whenever i watch him
If only i can get everyone to watch this drama, i would.
As if it's not enough that it was tastefully made, insightful and so relatable that it would make you feel so many feels while you're watching the drama, it decided to outdo itself episode after every episode by being one of the best love stories ever told of all time .
Whether it's that pang of longing that you feel for a friend that you can never have or that ache in your chest over a love that had gone wrong or the fluttery, warm, gooey feeling of that realization that the love you had been searching for is right in front of your nose all along, THIS DRAMA HAS DEPICTED ALL OF THAT TO PERFECTION.
I can so understand why everyone whom i have turned on to this drama keeps going back to my blog to tell me how much they loved it.
I've been there.
In fact i still am.
I would marry it if i could.
That's just how good it is. :)
"Donna, I'm still so much in love with Li Da Ren that I've lost my appetite for all the Korean Dramas that are sitting in my hard disk waiting to be watched. What do I do? I just want to keep going back to Li Da Ren and I've already seen In Time With You like two more times after the first time. >.<"
-victimofmywoes
Oh trust me sweetheart.
I know the pitfalls of falling in love with one such (fictional) man named Li Da Ren.
It's been months since i've last seen him and i still think that he's the bees knees and incomparable to none.
In fact i'm so enamored of the guy that i have already married him in my dreams, had babies with him and had countless number of hot, dirty, REALLY naughty encounters with him but alas… they're all in my mind.
*le sigh*
See?
He's driven me crazy with his perfection.
I can't say it will go away and that time will heal that insanity because frankly speaking, it won't.
The only cure left is for you to rewatch In Time With You again and again and again and then some more until you got your fix and then repeat the process all over again when you feel that craving and temptation hits you to just have some more.